Traveling Gavel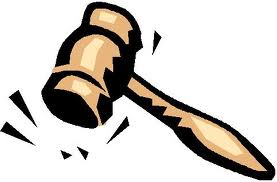 The Traveling Gavel program runs from Congress 2016 to Congress 2017.
All the Chapters start with a gavel with their name on it. When a Chapter travels with at least 3 DeMolays and 1 advisor to another chapter meeting they can take the gavel of the host chapter back home with them. If the Chapter has already lost their gavel to a rival Chapter they can give up one of the gavels from other chapters that maybe in their possession. If the chapter has depleted their supply of gavels then the visiting Chapter goes away empty handed.
When two or more Chapters show up at the same meeting then the Chapter that has traveled the furthest in miles shall take home the gavel. If they have traveled the same distance than other considerations must be used such as; who has not taken a gavel yet?; who has the fewest gavels?; etc.
Most importantly when a Chapter obtains a gavel as a result of the visitation, they MUST report the taking in an email to: gavel@mademolay.org. If the report comes in more than 24 hours later then the gavel must be returned to the host Chapter.
As a matter of courtesy, the Chapter Dad Advisor should contact the chapter that he plans on visiting to inform them of an impending visit.
Where are the gavels now?
As of April 24, 2015 they are:
| | |
| --- | --- |
| Chapter | Where is their Gavel? |
| Battle Green | Dad Noble |
| Benjamin Franklin | Middleboro |
| Cape Cod | ??? |
| David Allen Hill | Middleboro |
| Fidelity | Fidelity |
| Gardner | Gardner |
| Greater Boston | Greater Boston |
| J. G. Whittier | J. G. Whittier |
| John Eliot | Middleboro |
| Lowell | Middleboro |
| Middleboro | Middleboro |
| Old Colony | Middleboro |
| Phoenix | Middleboro |
| South Coastal | Middleboro |
| South Shore | Middleboro |
| Wakefield | Middleboro |
| Worcester | ??? |